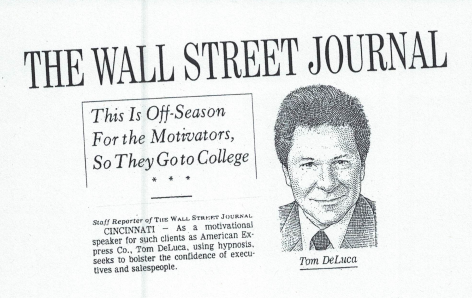 Staff Reporter of The Wall Street Journal
CINCINNATTI – As a motivational speaker for such clients as American Express Co., Tom DeLuca, using hypnosis, seeks to bolster the confidence of executives and salespeople.
DateLine NBC
"Businesses go to Corporate guru Tom DeLuca"

The Arizona Republic
"AWESOME! That's the first work that comes to mind when I think of your show. It's been over a month since the event and I'm still hearing praises about your performance. And since the videos of the evening are still circulating, I'm sure the accolades will continue to mount. In all my years as an events coordinator, I have never heard as much positive feedback from guests as I have after your show. I'm ecstatic that we broke out of the "motivational speaker route" and entered the much more entertaining, exciting and refreshingly different world of the power of suggestion."

    Gene D'Adamo Special Events Coordinator
Rolling Stone
"His approach is to forgo the gimmickry to reveal the fun and wonder hidden in the attics of his volunteers' minds. There are moments of joy and happiness on stage."

DAILY-NEWS
ENTER LAUGHING
"One of the most fascinating and entertaining acts we've seen in some time, hypnotist Tom DeLuca. This guy just knocked out socks off."

VARIETY
CONCERT REVIEWS DeLuca's "imaginism" makes for a most unusual evening of entertainment, one that takes the idea of "audience participation" to its outer limits.

Meeting Professionals International, Professional Education Conference
"Very practical. Great physical benefits"

NEW YORK POST
DeLuca's power of suggestion
"Deluca is careful not to humiliate his subjects. Rather, he taps into their personalities, ringing human foibles gently to the surface. The results of Tom's show are fascinating, hilarious, at time even poignant. Don't miss him."

Corporate Meetings & Incentives
"****" – EXCELLENT
"Tom DeLuca had them rolling in the aisles at the Meeting Professionals International Meeting. DeLuca is a performer with an attitude (he's got a Masters in Psychology) who customizes his Power of Suggestion presentation for each audience."

LA WEEKLY
"Pick of the Week" Tom DeLuca I hate hypnotists, but even I can't dislike Tom DeLuca with his teddy bear looks, soft trust-me voice, and his demystifying of the hypnotism. A sort of Penn & Teller of hypnotism, DeLuca may well be the first truly hip hypnotist.

Tradeshow Week
"One entertainer has parlayed a Masters degree in Psychology, a knowledge of the of the psyche, a sense of humor and some valuable relaxation techniques into the booming career on the tradeshow and convention circuit..Tom DeLuca, whose corporate clients read like a list of the Fortune 500."

ST. LOUIS POST-DISPATCH
COMEDY REVIEW
"I had seen his show earlier this year and was highly entertained by it then. I was curious whether he could bring the same kind of hilarity to another performance. He did. DeLuca is kind of a cross between a stand-up comic and a practitioner of "imaginism," and splits his show accordingly. It turned out to be very funny, largely because of the reactions that the subjects had to his suggestions and the fact that he really didn't embarrass anyone."

SPECIAL EVENT MAGAZINE
"Closing general session speaker Tom DeLuca opened the subconscious minds and imagination of about a dozen attendees during a riveting-not to mention hilarious-hypnosis session designed to help channel creativity. Laughter echoed throughout the auditorium during DeLuca's session."

FAST COMPANY
Renowned for his work in hypnosis, he teaches them a mental technology to let go, allowing people to fall into a refreshing sleep for about 20 minutes, without having to fall into the REM cycle.

ELLE
For those to whom the word "hypnotist" conjures up the image of a Merlin-type swinging a watch with an evil leer. Tom DeLuca will come as a surprise. DeLuca bounds energetically onto the stage looking more like your favorite homeroom teacher than a sinister molder of minds. DeLuca is careful never to humiliate the participants, whose own experience is generally likened to that of a nap, from which they awaken refreshed.

Orlando Sentinel
"MIND Masseur Tom DeLuca Stimulates Imagination"
"As for the crown that will pile into the University of Central Florida Arena to se the self-titled "Imaginist,' they probably don't care what you call him as long as you don't prevent him from making his annual sojourn. Deluca divides his time between making his campus rounds and appearing at corporate-level workshops. DeLuca is also the man behind those 30 minute Power Naps.

Chicago Tribune
Hypnotist turns New Trier fundraiser into fun
$3K raised for Habitat for Humanity service project
Famed hypnotist Tom DeLuca used the power of suggestion to entertain and help the New Trier High School [senior class] raise money toward building a home for a poor family in Waukegan.
For many years, the graduating class has taken on a service project as a way of giving back to the community while allowing the class to pull together as a group. For each of the past 14 years, the class has chosen to work with Habitat for Humanity.
"It's a fun event. They have a good time with it," said Chris Pearson, NTHS senior boys' advisor chair.